Jeep Posse celebrates 65 years of serving Yavapai County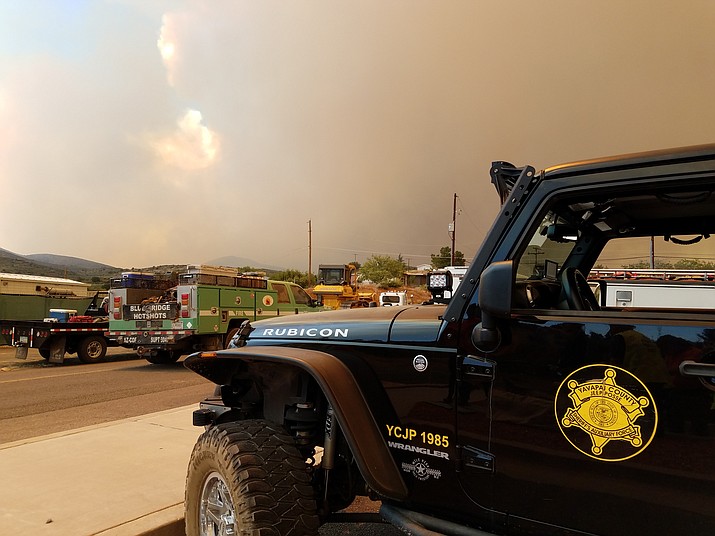 A 6-year-old girl had gone missing from her home one late afternoon.
Local police were notified, as was the Yavapai County Jeep Posse (YCJP), an entirely volunteer nonprofit search and rescue organization.
A search ensued.
Jerry Kimmet, a YCJP member, was the first to pick up on her trail.
"It was in this little sandy wash," Kimmet said.
The girl had gotten stones in her shoes while walking and had decided to take them off.
"I found those, and then she just left little round heel prints in the sand," he said.
About half a mile further, he found her. She was OK.
"That was a real accomplishment," Kimmet said. "You just can't imagine the thrill of actually finding somebody and then reuniting them with their loved ones."
That was at least 20 years ago when Kimmet was still active in search and rescue missions.
Now 84 years old, Kimmet, a 39-year member of YCJP, has long since hung up his search and rescue gear.
"I leave that to the young guys nowadays," he said.
One of those young guys is Randy Dashiell. He's currently the elected Captain of YCJP.
He's only been with the non-profit search and rescue organization for about five years, but he's already seen his fair share of action in the field.
One of the most significant missions he has faced was just this last summer when the Goodwin Fire tore through the Bradshaw Mountains.
About ten years ago, YCJP developed an effective evacuation plan for many areas within Yavapai County that are at high risk of wildfires.
They have since become the go-to organization within the greater Prescott area for swift evacuations in emergency situations.
"The sheriff's department has so much faith in us on our evacuation techniques that they basically just say, 'we need Mayer evacuated immediately,'" Dashiell said. "That's all they need to say and we go in, organize it and get it done."
In the case of the Goodwin Fire, the organization was on duty 24 hours a day throughout the ordeal. Its members, of which there are about 60, took turns rotating through 12-hour shifts.
"It certainly was a situation that taxed all of our available resources," said Bob Massarotti, YCJP Board Chairman. "If we weren't doing evacuations, we were doing traffic control or security for areas that had been evacuated."
Massarotti has been with YCJP for about 11 years. While he remembers many of the successful missions he has been a part of, he also remembers those that were more heartbreaking.
One of the hardest was the case of Sylar Newton, a 2-year-old boy who had been reported missing in 2010 by his custodial mother during a family camping trip to Beaver Creek in Rimrock.
The Yavapai County Jeep Posse was only one of many organizations that searched long and hard for the boy.
"Everybody was out there," Massarotti said. "We looked, and we looked, and we looked, but we just couldn't find this little guy."
The remains of the boy were eventually found way downstream.
Turns out the custodial mother and grandmother knew about the boy's death and had tried to cover it up. They both eventually pleaded guilty to child abuse.
"It was easily one of the worst ones we've ever dealt with," Massarotti said. "There are those who need rescuing and then there are those who need rescuing. When it's a kid, that really gets everybody putting in 1,000 percent effort."
While some might consider members of the YCJP heroes to some degree, Massarotti prefers to look at it a different way.
"We're just folks that will get up out of a warm bed at 3 o'clock in the morning and come out and help you if you need it," he said.